2015 Thomas F. Donlon Memorial Award
for Distinguished Mentoring

Submitted by the Thomas Donlon Mentoring Award Committee: Lisa Keller (chair-elect), Ann Hassenpflug, Thanos Patelis (chair), and Cathy Wendler.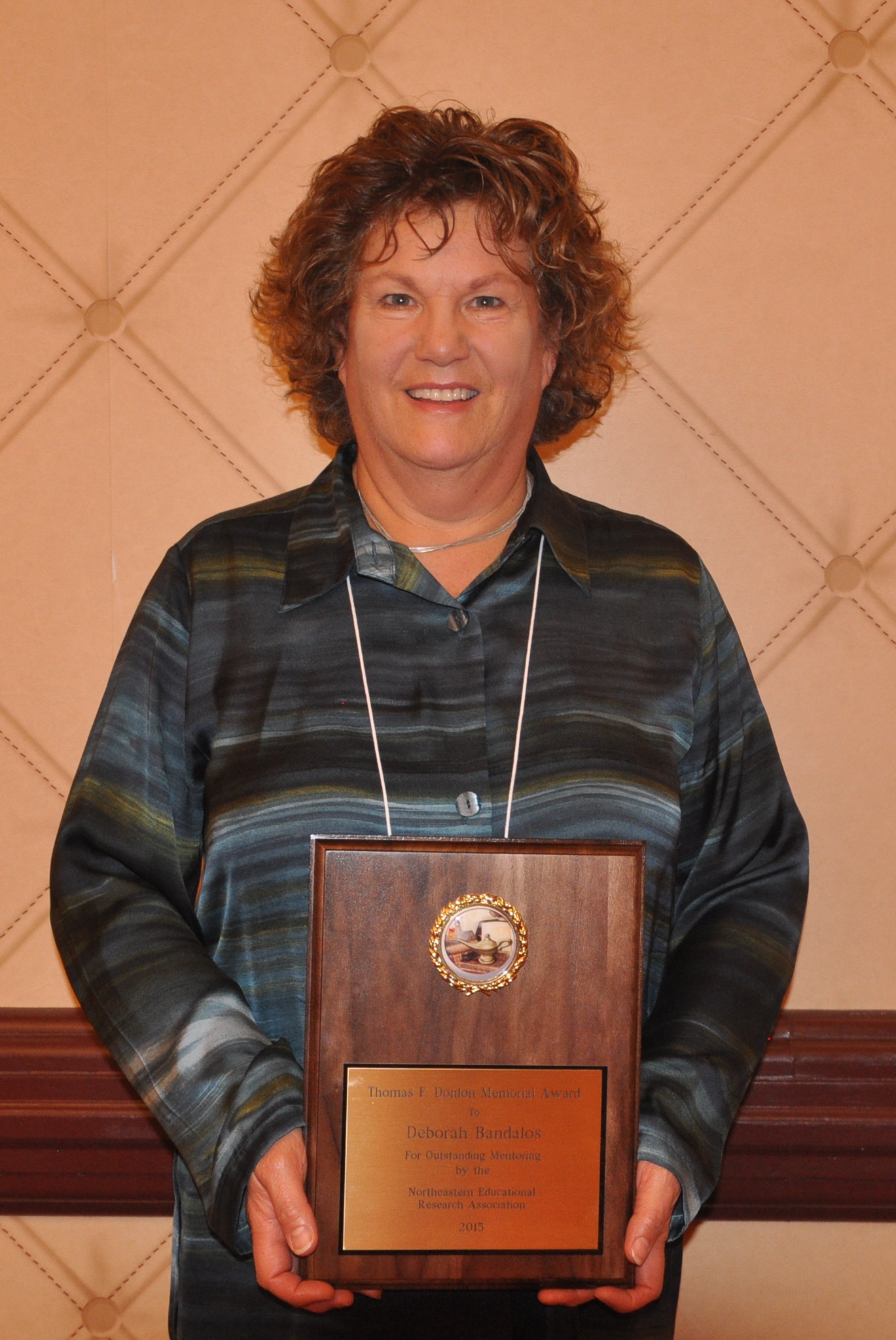 Dr. Deborah Bandalos
, Professor in the Department of Graduate Psychology and Director of the Assessment and Measurement Doctoral Program at James Madison University, is the 2015 Thomas F. Donlon Mentoring Award recipient.
In her five years at James Madison University, twelve years at the University of Georgia, and ten years at the University of Nebraska-Lincoln, Debbi has impacted the development and careers of many students, faculty, and colleagues. The nomination letters not only commented about her accomplishments as a scholar, but overwhelmingly indicated her support and efforts on behalf of students and colleagues in their professional development and realization of their goals. A comment that characterized Debbi was "she always goes above and beyond her duties when it comes to the academic and professional development of students."
Debbi spent time structuring student work, providing opportunities to gain practical experience, securing funding, engaging students in conversations, and meeting with them formally and informally. Debbi was able to support students across institutions encouraging students in real, practical actions, as well as in their intellectual pursuits. One comment indicated that "she genuinely cares about the well-being of all students in our program. I have seen repeatedly that her advisees benefit not only from her technical knowledge, but also from her wise and kind spirit."
Debbi has been described as a caring person who takes the time to listen to students and engage them on a personal level. "Dr. Bandalos is well known for her measurement expertise, engaging teaching style, and critical thinking skills. Equally impressive are her approachability, enthusiasm, and thoughtfulness in the role of mentor. To her, advisees are like family members."
Debbi inspires students to apply what they've learned in classes by undertaking research projects. She encourages them to propose and present their work at professional conferences, and in particular, NERA. "In each of these courses Debbi had a natural ability to engage and empower her students. She did not simply instruct us on techniques, rather she spent time with us, outside of class, mentoring us through complex psychometric problems and guided us with our own research ideas that often stemmed from her classes. For example, the guidance and "nudge" she gave me and another student during her classes led to an accepted poster at NCME, a paper at NERA, and a manuscript that is currently under review in a journal."
Debbi continues to touch the lives of established professionals and students. She takes the time to discuss any number of issues faced by people in the halls of her university, as well as the meeting rooms at professional conferences. She takes the time to listen, offer advice, and always shows interest and concern for people—exemplifying the characteristics of the Thomas F. Donlon Award for Distinguished Mentoring.
Congratulations to you, Debbi, for your mentoring and commitment to your students and colleagues!