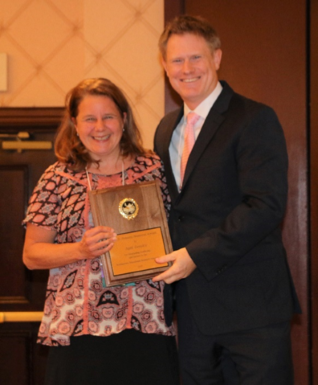 The Leo D. Doherty Memorial Award is presented to a longstanding NERA member who "has generously given of self to NERA, to advance its mission and to enable it to thrive." The award, instituted by the NERA Board of Directors in 1981, honors the memory of Leo D. Doherty who was instrumental in the development and growth of NERA as a professional association for educational research. His leadership qualities, both ethical and compassionate, encouraged others to pursue and achieve their goals. Thus, this award, not given annually, is presented to a NERA member who has shown outstanding leadership and service to our organization. The recipient of the 2017 NERA Leo D. Doherty Memorial Award for Outstanding Leadership and Service is
Dr. April Zenisky
. Her extensive service and valuable contributions to the organization make her the perfect person for this award.
April began attending NERA in 1998 as a graduate student. She served as NERA conference co-chair in 2007, as a member of the NERA Board of Directors from 2008-2011, acting as the liaison to the awards committees, and as NERA president-elect, president, and past-president from 2013-2016. Although the amount of NERA roles that she has served is extremely impressive, it is even more important to note what April has accomplished in these roles, and the traits that April exemplifies in everything she has done and continues to do for NERA.
When April was on the Board of Directors, she volunteered to spearhead the NERA handbook revision. For many years prior to this, the NERA handbook had been outdated and difficult to navigate. It was truly a mixture of a wide variety of information with many purposes and no organization. Unfortunately, NERA members are often busy with a million other tasks pertaining to the conference, their own professional and personal agendas, and only a few have ever been able to make this a priority. Thankfully, April is also an exception to the rule, and took on the valuable task of reorganizing, revising, and recreating the NERA handbook and forming the wonderful document that exists today. This was no easy task and took many years of hard work. It will serve as a living document that will be used extensively for decades and will help NERA to thrive and continue to meet its mission. A testament to this is the amount of times that questions have come up over the past few years during NERA discussions or at board meetings, and the answer consistently is, "Let's check the handbook!"
NERA was extremely lucky to have elected April as the 2015 NERA president. In her year as president, she worked with her conference chairs to plan a great conference with amazing speakers, informative workshops, and interesting sessions. The theme of "Interdisciplinary Approaches, Collaborating Minds" helped bring researchers of all types and fields together and encourage collaboration, which is extremely important, yet often hard to achieve. The two keynote speakers, Dr. Ron Ferguson and Dr. Nancy Streim, were wonderful choices and attracted current, former, and new members to come to the conference to hear their enlightening talks which highlighted the theme of showing how research can affect policy and the value of university-school partnerships.
Outside of the conference, April was a driving force in bringing renewed structure to NERA's efforts and missions. She worked with the NERA committees to rethink our yearly plans and ensure that they align with the seven strategic goals outlined by the NERA Strategic Planning Committee. She also set up an official NERA communications policy to officially establish what could be sent via e-mail, social media, and message boards. Thus, April's presidency will be remembered as having provided NERA with extensive valuable infrastructure in many ways.
Any UMass Amherst graduate student, or any graduate student or young professional that has attended NERA, recognizes April for her unique ability to mentor anyone and everyone. Although this is not a mentoring award, her mentoring is just another one of the countless ways she has contributed to making NERA the organization that it is and continues to be. Throughout the NERA conference, it is typical to see April giving research and career advice to anyone that she meets. NERA attendees are always excited to get the opportunity to speak to her about score reporting and computer-adaptive testing, and get a taste of her wisdom. She has been a fantastic role model for young people who are interested in exploring educational research and psychometrics, and there are dozens of students—and faculty and other professionals—who are grateful for her influence.