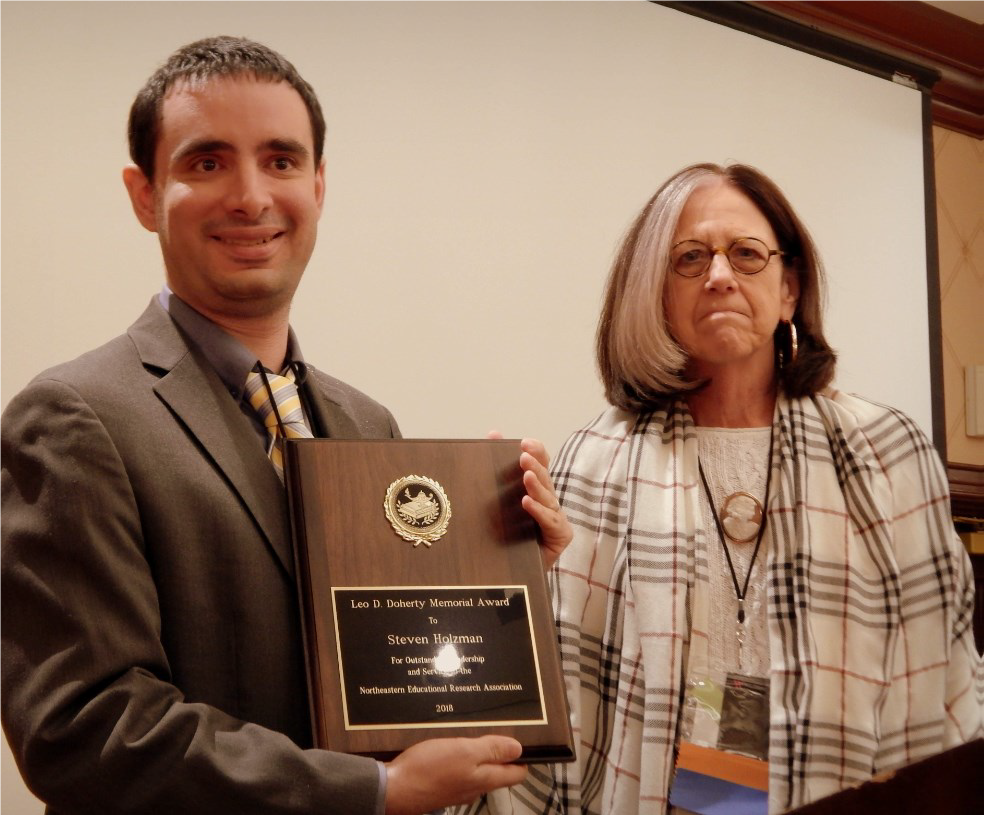 The Leo D. Doherty Memorial Award is presented to a longstanding NERA member who "has generously given of self to NERA, to advance its mission and to enable it to thrive." The award, instituted by the NERA Board of Directors in 1981, honors the memory of Leo D. Doherty who was instrumental in the development and growth of NERA as a professional association for educational research. His leadership qualities, both ethical and compassionate, encouraged others to pursue and achieve their goals. Thus, this award, now given annually, is presented to a NERA member who has shown outstanding leadership and service to our organization. The recipient of the 2018 NERA Leo D. Doherty Memorial Award for Out-standing Leadership and Service is
Steven Holtzman
. In reflecting on the spirit of the Doherty Award, I am particularly moved by the fol-lowing statement: "…a nominee must be a member of long standing who has generously given of self to NERA, to advance its mission and to enable it to thrive." With that in mind, Steven Holtzman
is
NERA. For those of us who have had the extraordinary good fortune to have worked with Steven as he has progressed through various leadership positions within NERA, the extent to which he has committed himself to improving NERA operations and functions in every aspect of his service is far-reaching and has served to strengthen NERA as an organization and as a community.
Steven has been attending NERA for almost 10 years, and today's NERA would not be nearly the organization is it without his contributions to our member services and functionality. My first real opportunity to work with Ste-ven came when I was on the Board and he was the chair of the Communications Committee, and he was integral in collaborating with other committee members to professionalize our communications activities (email, web, and social media). His Communications Committee work led to his eventual role as the chair of the Infrastructure Committee, and it was there that I came to fully rely on Steven during my term as President, for his careful nature and eagerness to research new initiatives. He was very active in proposing infrastructure-related activities and identifying the pros and cons of different courses of action, to fully explore the benefits and potential consequences for members. To this day, I still appreciate the extent to which Steven put member needs and considerations first in laying out a path forward for NERA with respect to a wide range of issues such as defining the membership year for purposes of membership renewals.
Steven has also spent a year as Webmaster and was Presidential Advisor for Special Projects in 2014. In that Advisory capacity, among many other tasks as right-hand person to the then-NERA President, Steven was instrumental in bringing a vision of a NERA Webinar Series to fruition, to add year-round value to membership in NERA. He has further served as NERA Program CoChair for the 2013 conference, and most recently has been Treasurer. Steven is diligent, detail-oriented, and thoughtful, and NERA is better for his service and leadership. He is an exceptional volunteer and undoubtedly most deserving of the Leo D. Doherty Memorial Award for service to NERA.
--Submitted by April Zenisky, on behalf of the 2018 Doherty Award Committee (Elizabeth Stone, Barbara Helms, David Moss, Stephen G. Sireci, and April Zenisky)